CCG Automation Named on the 2011 OSBA Honor Roll
Posted on 6/27/2011
(Richfield, Ohio) June 2011 Ė CCG Automation is honored to be recognized by the Ohio School Boards Associationís (OSBA) 2011 Business Honor Roll program for its strong support of the Cuyahoga Valley Career Center (CVCC). This program, in its first year, gives school districts a way to show their appreciation to local businesses and recognize them for their valuable contributions to the schools.
The Ohio School Boards Association began in 1955 after four regional associations banded together to coordinate activities. Today, OSBA is composed of 718 school boards. Their 3,395 elected board members represent Ohioís local, city, exempted village, career center and educational service center districts. OSBA staff members are experts in many areas of school operations and state education policy and are a major support to Ohioís school boards.
Along with the completed Energy Conservation Measures installed at CVCC, which helped the school reduce operational costs as well as save energy, CCG Automation has generously contributed to a scholarship fund for students, as well as had employees directly support and participate in their local fund-raisers. CCG is proud to be a sponsor of Cuyahoga Valley Career Center, as well as member of the Ohio School Boards Association. In addition to supporting various other schools, CCG Automation will also be participating in the OSBAís tradeshow in October.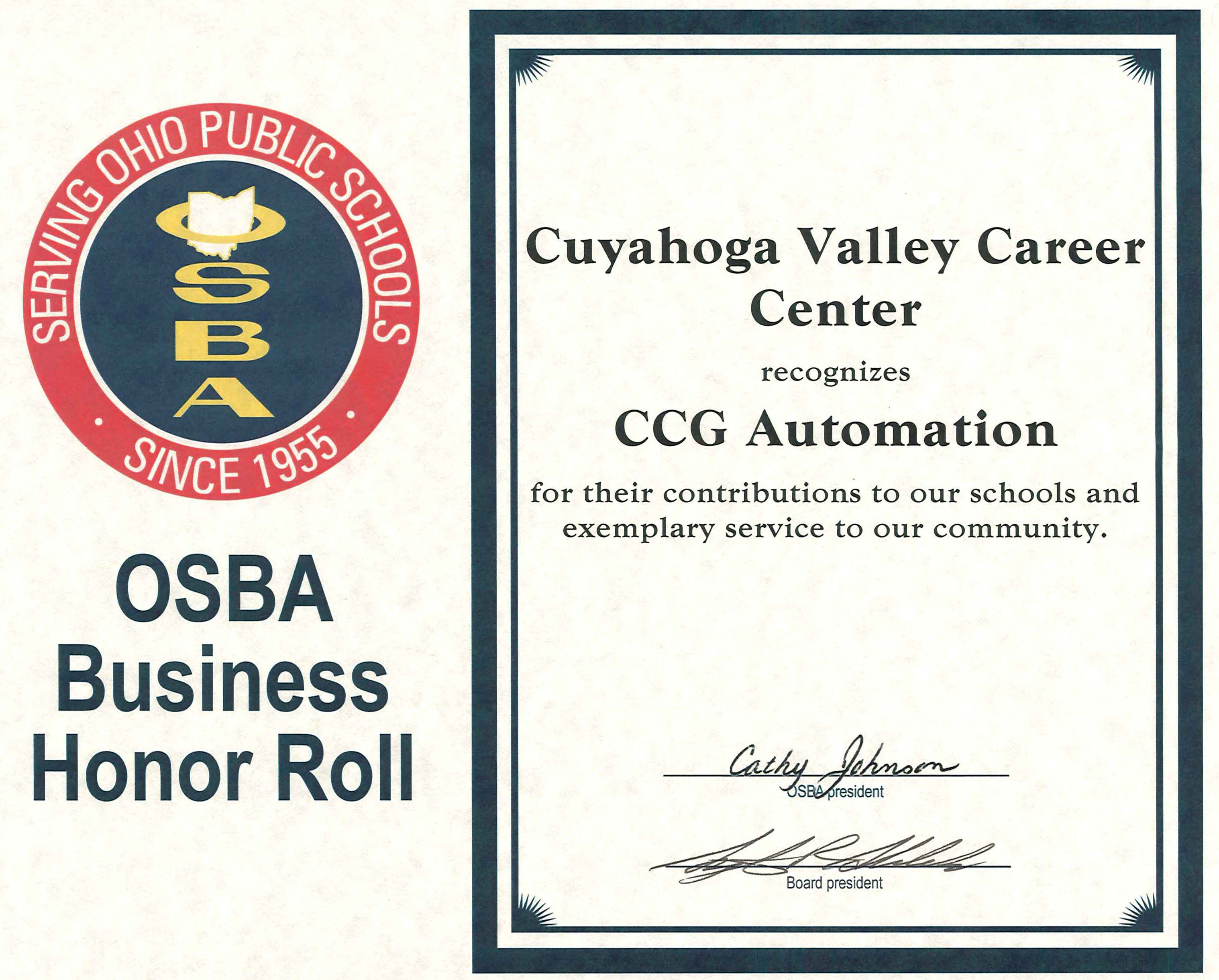 Company News
Energy Project of the Year
CCG was recognized by Association of Energy Engineers
Leetonia Exempted Village School See Big Reduction in Energy
Check out the message we just received from Leetonia Exempted Village Schools!
Mechanical Upgrades at St. John Bosco Church
CCG Automation Completes Campus Wide Metering Project at Akron Childrens Hospital
CCG Automation Completes Lighting Upgrades at James A. Garfield Local Schools
Olmsted Falls Middle School Completes Control Upgrades