Welcome to CCG Automation
CCG Automation, Inc. is a solution-based building automation provider focused on high quality, comfortable buildings with low energy consumption and easy to use systems. CCG's approach to focusing on the total cost of ownership over the life of the building rather than first cost allows customers to afford their utility bills from the completion of the project throughout the life of the building.
An all too common scenario that CCG encounters are the brand new buildings that have higher than normal utility bills because the budget to build the building only allowed for the lowest price rather than looking at the contractor with the lowest total cost of ownership over the life of the building. Sadly, this largely neglected and foreign notion in the construction of new buildings today results in unhappy building owners unable to afford their utility bills. If you cannot afford your utility bills, are looking to build a new building, or simply looking to replace your building automation system…don't look any further, CCG Automation is your solution.
---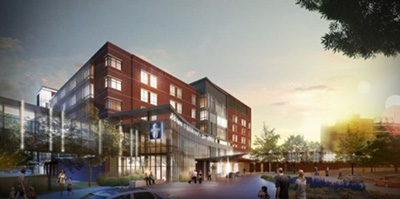 Akron Children's Hospital
Kay Jeweler's Pavilion
Make your building perform for you.

Project Highlights
After one year of occupancy the consumption is 38% less than the National Median.
With one of the biggest patient complaints in a typical hospital being comfort, our rooms are controlled to an average of 1/10 of one degree (Fahrenheit) of setpoint.
Akron Children's Hospital Kay Jewelers Pavilion has an ENERGY STAR rating of 88 and has achieved an excellent balance of comfort and energy savings.
Controls were built using the Integrated Project Delivery method.
"Work was completed on time and with more help than we had ever experienced before from a building controls contractor." - Cliff Greive Director of Construction Akron Children's Hospital
At 5% profit, each $1 saved in energy equates to an additional $20 in revenue this represents $11 million in annual revenue."
Based on Annual Projected Savings over the National Median
Company News
Akron Children's Hospital Considine Building Win Energy Award
It is fitting that last week, on Energy Efficiency Day, the American Society for Health Care Engineers announced that Akron Children's Hospital has won an Energy to Care Gold Standard Award for the continued energy reduction work in the Considine Professional Building.
Energy Project of the Year
CCG was recognized by Association of Energy Engineers
Leetonia Exempted Village School See Big Reduction in Energy
Check out the message we just received from Leetonia Exempted Village Schools!
Mechanical Upgrades at St. John Bosco Church
CCG Automation Completes Campus Wide Metering Project at Akron Childrens Hospital
CCG Automation Completes Lighting Upgrades at James A. Garfield Local Schools
Company Blog
Continuous Validation
Increased performance and reduced utility consumption leads to success for Akron Children's Hospital.
Never Enough Money
You get what you pay for. Often, you will find that an initial low cost is the most expensive way to go.
Before/After
Imagine how much more productive and healthy occupants are when they are in a comfortable work space.