Total Care Program
CCG Automation, Inc. (CCG) provides service to our clients either on a service contract basis (TCP or PPS) or a time and material service call. Our staff has a broad range of knowledge and experience working with both digital and pneumatic systems. A brief overview of our two types of service contracts is outlined below.
Under the Total Care Program (TCP) our clients receive regularly scheduled visits by one of our technicians to perform system checks and ensure all equipment is running properly and efficiently. The TCP enables CCG to identify and protect our customers' long-term needs. Through this program, we are able to partner with our customers to assure continued energy savings, building comfort, and maximize the life of equipment for years to come. Each customers' Total Care Program can be customized based on their needs and the different modules outlined above.
Our TCP includes four modules that will provide you with all the services you need to keep your new automation system running efficiently. The modules are listed below with a summary of each:
Module 1 – Building Automation System Maintenance
This module includes calibration/tuning of sensors, DDC hardware checkout, review of control strategies, and maintenance of the WebCTRL server. It also includes one software license upgrade per year.
Module 2 – Monitoring for Comfort and Efficiency
This module includes monitoring of buildings before and after TCP visits to fine tune controls, identify energy performance issues, verify sequence of operations and review trends and reporting.
Module 3 – Training & Education
This module includes training classes held at CCG's training center as well as onsite training at the customer's facility.
Module 4 – Pre-purchased Service(s)
This module covers unplanned service issues that may arise during the contract period. It allows for phone/remote support and/or onsite service calls.
The Pre-Purchased Service (PPS) can be purchased in small blocks of time (at a minimum of 8 hours). It gives the customer flexibility, providing a combination of onsite labor and/or remote service that fits within the allotted time outlined in the contract. PPS work is performed under the direction of the customer's representative to repair or adjust equipment or provide training.
For more information about service please call us at 330.659.5082.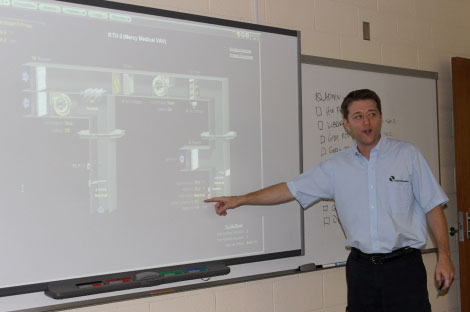 Company News
CCG Helps EHOVE Career Center During Pandemic
EHOVE Career Center has a new tool called needlepoint bi- polar ionization as part of its safety & wellness efforts during the pandemic that will also be a long-term asset. The ionization system is very effective in killing COVID-19, as well as other viruses, bacteria and molds, including influenza.
Akron Children's Hospital Considine Building Win Energy Award
The American Society for Health Care Engineers announced that Akron Childrens Hospital has won an Energy to Care Gold Standard Award.
Energy Project of the Year at Strasburg-Franklin Local Schools
CCG was recognized by Association of Energy Engineers.
Leetonia Exempted Village School See Big Reduction in Energy
Check out the message we just received from Leetonia Exempted Village Schools!
CCG Automation Completes Campus Wide Metering Project at Akron Childrens Hospital
CCG Automation recently completed a campus-wide metering project at Akron Children's Hospital to help track energy usage throughout the campus.
CCG Automation Completes Lighting Upgrades at James A. Garfield Local Schools
CCG Automation recently completed lighting upgrades at the High School/Middle School in the James A. Garfield Local School District, located in Garrettsville, OH.
Company Blog
Continuous Validation
Increased performance and reduced utility consumption leads to success for Akron Children's Hospital.
Never Enough Money
You get what you pay for. Often, you will find that an initial low cost is the most expensive way to go.
Before/After
Imagine how much more productive and healthy occupants are when they are in a comfortable work space.