CCG Automation Recognized by Automated Logic Corporation for the Tenth Year
Posted on 5/31/2012
CCG Automation was recently honored with the "10" Award by Automated Logic Corporation at their annual conference held in Chicago. This marked the appreciation for ten years of dedication representing Automated Logic Corporation.
Since becoming an Automated Logic dealer in 2001, CCG Automation is an eight time winner of the Sales Achievement Award which is based on superior field performance, sustained yearly growth, excellence in customer service, and reputation in the market. CCG Automation has been recognized with other outstanding Automated Logic achievements such as the Rookie of the Year Award, won in 2002, as well as Project of the Year in 2005 and has been nominated multiple other times. This continued recognition is evidence CCG Automation continues to thrive in the building automation field.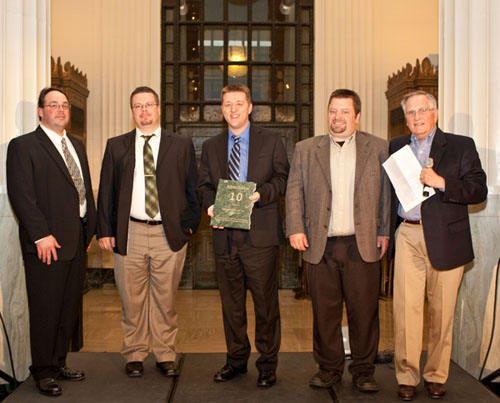 Company News
CCG Helps EHOVE Career Center During Pandemic
EHOVE Career Center has a new tool called needlepoint bi- polar ionization as part of its safety & wellness efforts during the pandemic that will also be a long-term asset. The ionization system is very effective in killing COVID-19, as well as other viruses, bacteria and molds, including influenza.
Akron Children's Hospital Considine Building Win Energy Award
The American Society for Health Care Engineers announced that Akron Childrens Hospital has won an Energy to Care Gold Standard Award.
Energy Project of the Year at Strasburg-Franklin Local Schools
CCG was recognized by Association of Energy Engineers.
Leetonia Exempted Village School See Big Reduction in Energy
Check out the message we just received from Leetonia Exempted Village Schools!
CCG Automation Completes Campus Wide Metering Project at Akron Childrens Hospital
CCG Automation recently completed a campus-wide metering project at Akron Children's Hospital to help track energy usage throughout the campus.
CCG Automation Completes Lighting Upgrades at James A. Garfield Local Schools
CCG Automation recently completed lighting upgrades at the High School/Middle School in the James A. Garfield Local School District, located in Garrettsville, OH.