Lake Local Schools Energy Project Recognized at the State House
Posted on 2/19/2016
State Representative Christina Hagan along with the members of the House of Representatives of the 131st General Assembly of Ohio recognized and congratulated the Lake Local School District on receiving the 2015 Energy Project of the Year Award for Region III from the Association of Energy Engineers. Representative Hagan presented the Resolution to the School District and Superintendent, Jeff Wendorf on Wednesday, February 17, 2016. Representative Hagan went on to say "Lake Local Schools have a tradition of excellence. Today we are honored to recognize all of the professionals that work day in and day out to exceed the norm and make a substantial difference in our community. It is an exciting endeavor to implement upgrades that have resulted in an almost 60% reduction in energy usage within just one year. I am proud of Lake Local Schools as recipients of this award and look forward to their future accomplishments."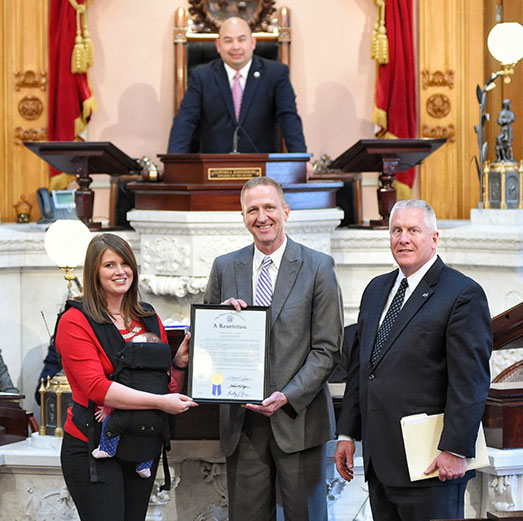 Company News
CCG Helps EHOVE Career Center During Pandemic
EHOVE Career Center has a new tool called needlepoint bi- polar ionization as part of its safety & wellness efforts during the pandemic that will also be a long-term asset. The ionization system is very effective in killing COVID-19, as well as other viruses, bacteria and molds, including influenza.
Akron Children's Hospital Considine Building Win Energy Award
The American Society for Health Care Engineers announced that Akron Childrens Hospital has won an Energy to Care Gold Standard Award.
Energy Project of the Year at Strasburg-Franklin Local Schools
CCG was recognized by Association of Energy Engineers.
Leetonia Exempted Village School See Big Reduction in Energy
Check out the message we just received from Leetonia Exempted Village Schools!
CCG Automation Completes Campus Wide Metering Project at Akron Childrens Hospital
CCG Automation recently completed a campus-wide metering project at Akron Children's Hospital to help track energy usage throughout the campus.
CCG Automation Completes Lighting Upgrades at James A. Garfield Local Schools
CCG Automation recently completed lighting upgrades at the High School/Middle School in the James A. Garfield Local School District, located in Garrettsville, OH.