Hudson City Schools
House Bill 264 Phase I
Energy Conservation Program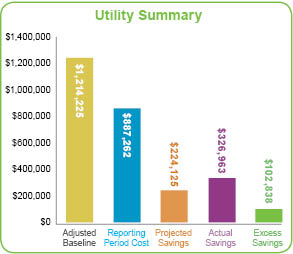 Project

Cost:
$3.03 million
Projected Annual Energy Savings:
$224,125
Actual First Year Energy Savings:
$326,963
Savings Exceeded Projection By:
$102,838
The project addressed many Energy Conservation Measures (ECMs) in five district buildings, including:
Lighting upgrades

Five heating plant upgrades

Building automation upgrades

Water conservation

Classroom HVAC upgrades

Drop ceilings

Other improvements
Actual First Year Savings:
1,221,587 kWh of electricity
$125,374
9,672 MCF of natural gas
$135,780
3,805,076 gallons of water
$65,809
Along with the energy and cost savings for the district, the positive environmental impact of this project extends far beyond this community. Reduced energy use by the Hudson City Schools will prevent a significant amount of pollutants from being emitted into the atmosphere each year, including an estimated:
1,815,312 lbs. of carbon dioxide
19,618 lbs. of sulfur dioxide
12,353 lbs. of nitrogen oxide
Combined, these energy savings are equivalent to taking 134.47 cars off the road.

Project Images
Classroom


(before)

(after)

Company News
Akron Children's Hospital Considine Building Win Energy Award
The American Society for Health Care Engineers announced that Akron Childrens Hospital has won an Energy to Care Gold Standard Award.
Energy Project of the Year at Strasburg-Franklin Local Schools
CCG was recognized by Association of Energy Engineers.
Leetonia Exempted Village School See Big Reduction in Energy
Check out the message we just received from Leetonia Exempted Village Schools!
CCG Automation Completes Campus Wide Metering Project at Akron Childrens Hospital
CCG Automation recently completed a campus-wide metering project at Akron Children's Hospital to help track energy usage throughout the campus.
CCG Automation Completes Lighting Upgrades at James A. Garfield Local Schools
CCG Automation recently completed lighting upgrades at the High School/Middle School in the James A. Garfield Local School District, located in Garrettsville, OH.
Mechanical Upgrades at St. John Bosco Church
CCG recently completed mechanical upgrades at St. John Bosco Church in Parma Heights, Ohio to address comfort and energy consumption