We Focus on COMFORT
What good is saving energy if it comes at the expense of poor comfort and occupant productivity losses? In the big picture, comfort is much more important than energy reduction.
Think about this. A typical office building spends $2.00 to $3.00 per square foot per year for utilities. It spends $200 to $300 per square foot per year for human resources. Saving 10% of your utility bill (20 to 30 cents) and subsequently reducing the productivity 10% can cost you $20 - $30 per square foot per year – a net loss of $19.80 - $29.70 per square foot. Your energy savings have been overshadowed by a reduction in the productivity of your people.
We pride ourselves on the comfort in the buildings we upgrade. Depending on the existing mechanical systems, we average temperatures within 1/10th of 1 degree of set point. How do we do that? It is our attention to the details.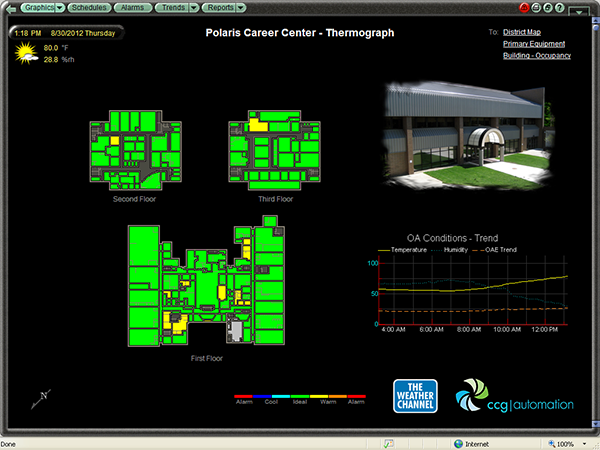 Company News
CCG Helps EHOVE Career Center During Pandemic
EHOVE Career Center has a new tool called needlepoint bi- polar ionization as part of its safety & wellness efforts during the pandemic that will also be a long-term asset. The ionization system is very effective in killing COVID-19, as well as other viruses, bacteria and molds, including influenza.
Akron Children's Hospital Considine Building Win Energy Award
The American Society for Health Care Engineers announced that Akron Childrens Hospital has won an Energy to Care Gold Standard Award.
Energy Project of the Year at Strasburg-Franklin Local Schools
CCG was recognized by Association of Energy Engineers.
Leetonia Exempted Village School See Big Reduction in Energy
Check out the message we just received from Leetonia Exempted Village Schools!
CCG Automation Completes Campus Wide Metering Project at Akron Childrens Hospital
CCG Automation recently completed a campus-wide metering project at Akron Children's Hospital to help track energy usage throughout the campus.
CCG Automation Completes Lighting Upgrades at James A. Garfield Local Schools
CCG Automation recently completed lighting upgrades at the High School/Middle School in the James A. Garfield Local School District, located in Garrettsville, OH.