Our PERFORMANCE RECORD
At CCG, we proudly showcase our impeccable performance record. Whether it's comparing utility consumption or evaluating building comfort, we confidently rank among the best. We eagerly embrace the challenge of comparing our achievements to our competitors'.
Would you entrust your finances to a planner without reviewing their past performance? Have you witnessed the track record of our counterparts? Don't solely measure performance based on energy reductions, but rather on annual energy consumption. It's important to consider that in some cases, achieving a 20% reduction in energy consumption is relatively simple if the baseline consumption exceeds the norm. True performance is measured by the actual energy consumed once an energy project is completed. Fortunately, the EPA's Energy Star Portfolio Manager Tool provides an excellent means of accomplishing this.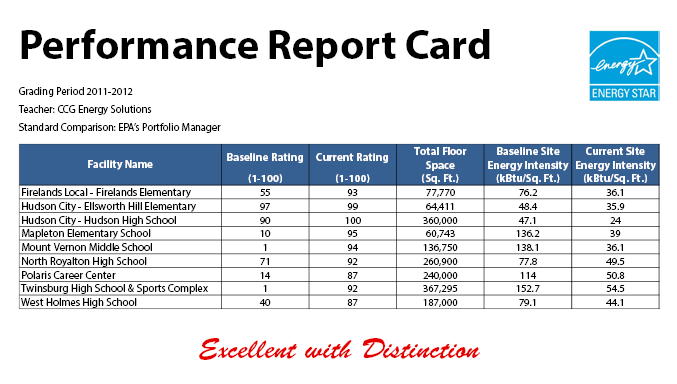 Despite facing stiff competition from small, medium, and large international companies with multiple locations in Ohio, we proudly have many clients' who have earned the prestigious Energy Star Certifications.
As assessed by the EPA's Energy Star Portfolio Manager, utilizing BTU/ft2/Year as the metric, CCG boasts an impressive portfolio of high-performing buildings. Take, for example, our exceptional success story at Hudson High School, which boasts a perfect rating of 100 out of 100. Alternatively, explore the transformative journey we undertook with Mount Vernon Middle School, elevating its rating from 1 to an outstanding 97.
We deeply understand that developing projects with a holistic view of Total Cost of Ownership, while prioritizing occupant comfort, yields unparalleled success. After all, the devil truly lies in the details. Our devoted team is committed to delivering award-winning projects that leave our customers delighted.

Company News
CCG Helps EHOVE Career Center During Pandemic
EHOVE Career Center has a new tool called needlepoint bi- polar ionization as part of its safety & wellness efforts during the pandemic that will also be a long-term asset. The ionization system is very effective in killing COVID-19, as well as other viruses, bacteria and molds, including influenza.
Akron Children's Hospital Considine Building Win Energy Award
The American Society for Health Care Engineers announced that Akron Childrens Hospital has won an Energy to Care Gold Standard Award.
Energy Project of the Year at Strasburg-Franklin Local Schools
CCG was recognized by Association of Energy Engineers.
Leetonia Exempted Village School See Big Reduction in Energy
Check out the message we just received from Leetonia Exempted Village Schools!
CCG Automation Completes Campus Wide Metering Project at Akron Childrens Hospital
CCG Automation recently completed a campus-wide metering project at Akron Children's Hospital to help track energy usage throughout the campus.
CCG Automation Completes Lighting Upgrades at James A. Garfield Local Schools
CCG Automation recently completed lighting upgrades at the High School/Middle School in the James A. Garfield Local School District, located in Garrettsville, OH.