Akron Children's Hospital Considine Building Win Energy Award
Posted on 10/14/2020
It is fitting that last week, on Energy Efficiency Day, the American Society for Health Care Engineers announced that Akron Children's Hospital has won an Energy to Care Gold Standard Award for the continued energy reduction work in the Considine Professional Building.
The Energy to Care Award honors health care facilities that reduce energy consumption by 10% in a single year or 15% over two years. As its name implies, the award recognizes facilities who reduce their energy consumption with the opportunity to reinvest the cost savings into care for their patients.
As an addition of 209,979 ft2, an increase of 84% of the building size, was being constructed, Akron Children's Hospital partnered with CCG Automation, Inc. to replace the automation system in the existing facility to match that being installed in the new addition. The entire 460,823 ft2 facility is now under control of CCG Automation, whose focus on comfortable and energy-efficient facilities is a perfect match for the hospitals long-term goals.
In 2018 the Considine Professional Building realized a reduction in utility consumption of 42% over their 2017 baseline. The year 2019 saw another 29% drop of energy, for a total two-year reduction of 67% from the 2017 baseline. The Site Energy Utilization Index (EUI), a buildings energy use as a function of its size, dropped from 233,000 btu/ft2 in 2017 to 76,000 btu/ft2 in 2019, while the weather intensity, increased by 965 Degree Days. The cost/ft2 dropped from $4.07/ft2 to $1.50/ft2 in the same two-year period.
According to Brian Lapolla, vice president of facilities and construction, "Akron Children's commitment to imagine an environment of comfort and healing for patients, families and staff leveraged Integrated Lean Project Delivery (ILPD) methodology during design and construction coupled with an on-going partnership with CCG Automation, resulted in this award-winning, energy conscious facility."
In addition to the dollars that are reallocated to children's care, the environmental impact of the energy reductions is having a major impact on the local community. The 1,528 metric tons of CO2 reduced is equal to removing 332 automobiles from the road or planting 1,984 acres of trees.
"It is an honor to have such a close partnership with Akron Children's Hospital. As they care about the health of our children, so do we. We don't cure the children directly, we cure what ails the facilities, which indirectly impacts the health of their occupants." said Brian C. Wagner, president of CCG Automation, Inc. "This award is another testimonial that we don't just talk the talk, we raise the expectations and set new records."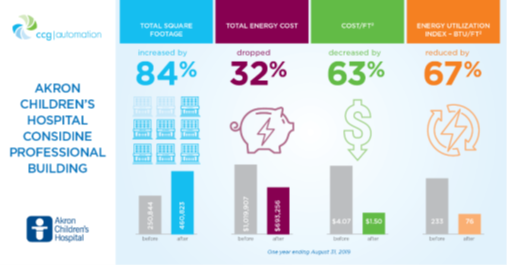 Akron Children's Hospital
Akron Children's Hospital has been caring for children since 1890, and our pediatric specialties are ranked among the nation's best by U.S. News & World Report. With two hospital campuses, regional health centers and more than 50 primary and specialty care locations throughout Ohio, we're making it easier for today's busy families to find the high-quality care they need. In 2019, our health care system provided more than 1.2 million patient encounters. We also operate neonatal and pediatric units in the hospitals of our regional health care partners. Every year, our Children's Home Care Group nurses provide thousands of in-home visits, and our School Health nurses manage more than a half million clinic visits for students. With the launch of our Quick Care Online virtual visits and Akron Children's Anywhere app, we're here for families whenever and wherever they need us. Learn more at akronchildrens.org.
American Society for Health care Engineers
With more than 12,500 members, ASHE is the largest association devoted to professionals who design, build, maintain, and operate hospitals and other health care facilities. ASHE members include health care facility managers, engineers, architects, designers, constructors, infection control specialists, and others. While our membership is diverse, ASHE members share a dedication to optimizing health care facilities and creating and maintaining safe healing environments. ASHE, a professional membership group of the American Hospital Association, is a trusted industry resource that provides education, regulatory guidance, networking, advocacy representation, and professional development for our members.

Company News
CCG Helps EHOVE Career Center During Pandemic
EHOVE Career Center has a new tool called needlepoint bi- polar ionization as part of its safety & wellness efforts during the pandemic that will also be a long-term asset. The ionization system is very effective in killing COVID-19, as well as other viruses, bacteria and molds, including influenza.
Akron Children's Hospital Considine Building Win Energy Award
The American Society for Health Care Engineers announced that Akron Childrens Hospital has won an Energy to Care Gold Standard Award.
Energy Project of the Year at Strasburg-Franklin Local Schools
CCG was recognized by Association of Energy Engineers.
Leetonia Exempted Village School See Big Reduction in Energy
Check out the message we just received from Leetonia Exempted Village Schools!
CCG Automation Completes Campus Wide Metering Project at Akron Childrens Hospital
CCG Automation recently completed a campus-wide metering project at Akron Children's Hospital to help track energy usage throughout the campus.
CCG Automation Completes Lighting Upgrades at James A. Garfield Local Schools
CCG Automation recently completed lighting upgrades at the High School/Middle School in the James A. Garfield Local School District, located in Garrettsville, OH.