There's a reason clothes come in different sizes, why your car seat is adjustable, and that there are over 80,000 different ways to enjoy a Starbucks beverage. It's because one size does not fit all. That includes controls installed on equipment at the factory.
Contrary to popular belief (and what equipment manufacturers will tell you), not only are factory controls not the best way to manage your system, it may in fact cost you more through inefficiency and early equipment damage and failure.
One case in point is when Akron Children's Hospital began designing its Kay Jewelers Pavilion, one of their goals was to focus on energy efficiency to reduce utility consumption and to reduce their carbon footprint. With its need for year-round simultaneous heating and cooling, the Kay Jewelers Pavilion was an ideal candidate for a Heat Recovery Chiller.
A Heat Recovery Chiller basically uses the heat rejected by a chiller and recycles it to preheat water for example vs. rejecting the heat outdoors. This cuts down on the cost of heating water from a colder starting temperature and eliminates the cost to reject the heat outdoors - therefore saves money.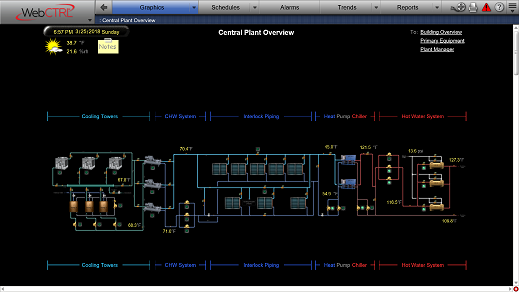 During the startup of the Akron Children's Heat Recovery Chiller, many of the typical issues occurred that happen when high technology equipment is installed in a sophisticated building. Parts of the system were shutting down and needed to be manually restarted. There were wide variances in the temperatures the system was supposed to keep consistent. The system at times would be cycling on and off when in fact, it should have been running smoothly. Bottom line – it wasn't working as expected and therefore not providing the cost efficiencies and comfort levels expected.
As is typical when there is a problem with a piece of equipment, there was a lot of finger-pointing trying to pass responsibility for the issue onto other individuals or companies. This went on for close to three years.
CCG was contracted to fix the issues. We solved the problems in three days. The solution was to upgrade the factory controls on the chiller with Automated Logic controls. It only makes sense to ensure that controls are customized and not use factory set controls. It's common sense.
There is no way a one size fits all control from the factory could efficiently manage a system that is implemented in widely varying building sizes, types, and uses.
Even two identical buildings, but with one located in Phoenix and the other in Boston, it is blindingly obvious that the controls would need to be customized to those very different operating environments.
It's probably obvious by now that at CCG we are not fans of controls coming on equipment at the factory, with few exceptions. It is our contention that the same program controlling a piece of equipment in one building needs modifications to control that piece of equipment in another building. We believe it takes a full season of operating to fine-tune the systems to the building and the occupants. I know this is opposite of what equipment manufacturers are pushing in the market – one factory program off the assembly line will control equipment properly no matter what building it's going in and where that building is. A great control company can fine-tune all properly-designed equipment for the personality of its building – and adjust not-so-well-designed systems to work much better than they are.
| | |
| --- | --- |
| | |
Why did it take CCG only 3 days to solve a 3-year old problem at Akron Children's? Experience. We have thousands of hours of experience monitoring and fine-tuning systems. Just ask Rob Knabe of Ashland City Schools about their Auditorium HVAC Unit, Mark Kaczmarek at Cleveland Clinic about his air handling unit serving a 100,000ft2 addition, or Mark Brown at Barberton City Schools about his pumping package. More examples of factory controls that under-performed.
Once again, I am very proud of our team at CCG. We will not leave equipment operating improperly - and in most cases - we will control it better than the factory.