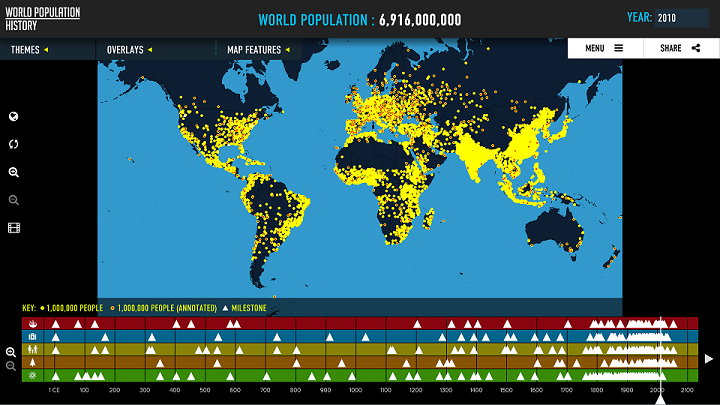 I Could Not Be More Proud
Over the weekend my 10-year old daughter, was so excited to show me a website she learned about at school last week. She could hardly contain her excitement as she explored the www.worldpopulationhistory.org site and played a timeline on the history of the world population.
Visit the site and I think you will find it interesting. What I found once I got over how quickly our world population has grown, was the realization of the impact of this growth on our planet. Given my background, I couldn't help but think about the exponential energy consumption that accompanies this expansion, along with the challenges that come with it.
I was proud that my daughter similarly understood this impact and that it was important to her. It's not often that what we do for a living crosses over to our personal lives in a truly meaningful manner. I'm proud that the work we do at CCG is doing our part, as daunting as this global perspective is, in helping reduce the energy consumption of our ever-expanding population.

Company News
CCG Helps EHOVE Career Center During Pandemic
EHOVE Career Center has a new tool called needlepoint bi- polar ionization as part of its safety & wellness efforts during the pandemic that will also be a long-term asset. The ionization system is very effective in killing COVID-19, as well as other viruses, bacteria and molds, including influenza.
Akron Children's Hospital Considine Building Win Energy Award
The American Society for Health Care Engineers announced that Akron Childrens Hospital has won an Energy to Care Gold Standard Award.
Energy Project of the Year at Strasburg-Franklin Local Schools
CCG was recognized by Association of Energy Engineers.
Leetonia Exempted Village School See Big Reduction in Energy
Check out the message we just received from Leetonia Exempted Village Schools!
CCG Automation Completes Campus Wide Metering Project at Akron Childrens Hospital
CCG Automation recently completed a campus-wide metering project at Akron Children's Hospital to help track energy usage throughout the campus.
CCG Automation Completes Lighting Upgrades at James A. Garfield Local Schools
CCG Automation recently completed lighting upgrades at the High School/Middle School in the James A. Garfield Local School District, located in Garrettsville, OH.
Company Blog
Continuous Validation
Increased performance and reduced utility consumption leads to success for Akron Children's Hospital.
Never Enough Money
You get what you pay for. Often, you will find that an initial low cost is the most expensive way to go.
Before/After
Imagine how much more productive and healthy occupants are when they are in a comfortable work space.